04 May 2018
3 Reasons why you should invest in an eye cream
As you might know, the skin surrounding our eye areas is thin and the most sensitive one on our face. It tends to be one of the first places where signs of premature aging such as fine lines and dark circles appear. These signs of premature aging is why most of us are looking for specialized skincare products.

Most of us have spend a lot of time and effort in finding the perfect eye cream that works for them, but unfortunately, it is a difficult task that not many of us succeeded. And with an abundance of products flooding the market, the choice becomes even harder, some eye creams may even cost you more than €100 for just a tiny jar.

We hear you think: "So why should I even invest in it? Would it just not be possible to use my face cream?"
Our advice is: "Please read this blog first and then decide."
1. Ingredients
The reason why you are on the lookout for an eye cream is probably due to tired-looking eyes. The problems are often dark circles or fine lines around your eye areas. That is why you should invest in an eye cream with the right ingredients.
(Korean) eye creams are formulated with a bunch of hydrating, wrinkle-improving and brightening ingredients such as:


Adenosine - Great in reducing the appearance of wrinkles and fine lines and also fights against and reduce the damage caused by harmful UV rays.
Ceramides - Lipid which naturally occurs in the skin membranes and helps eliminating moisture loss. It keeps the skin plump and youthful looking.
Hyaluronic Acid (Sodium Hyaluronate) - Locks in moisture and keeps the skin hydrated. It may also help with the stimulation of collagen production, which is a key feature in fighting premature aging of the skin.
Retinol (Vitamin A) - It's a skin-restoring, wrinkle-smoothing, firming ingredient. It enhances the appearance of dry or damaged skin by reducing flaking and restoring suppleness, and helps to reduce signs of skin aging caused by exposure to sunlight.
Vitamin C – A powerful antioxidant which may help in boosting collagen production and protection against harmful effects of free radicals.
Vitamin E – When vitamin E is used along with vitamin C, it protects against free radicals (toxins and environmental pollution), nourishes the skin, and helps to create a smoother complexion.
2. Texture
Even if your daily face cream includes anti-aging properties, it is still not suitable for the area's around the eyes. Daily face creams come in a rather thick formulation, which is not suitable for the delicate skin parts. Since eye creams are thinner you will be less likely to rub it in. Instead you will automatically tend to use less power and be more gentle on your skin when applying. Also, thick creams might clog the pores under your eyes which may result in, or worsen the small white cystic bumps there (a.k.a Milia). Face creams  may also contain irritants such as Ethanol, Fragrance and Silicon, which might cause eye irritation.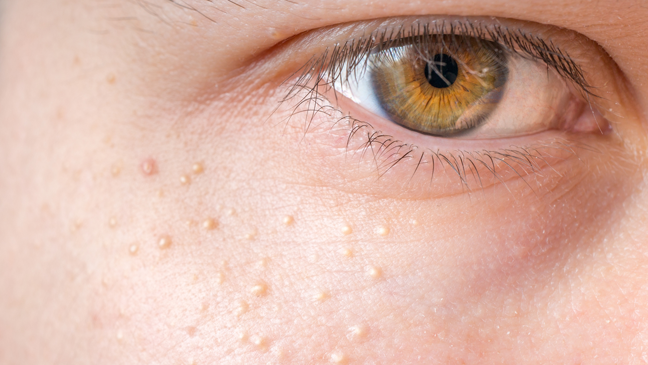 Under eye Milia
3. Wrinkle-improving purpose
Since eye creams contain all these powerful wrinkle-improving properties, it's excellent to use them for other areas where early signs of aging might appear, such as forehead, mouth areas and neck.
---
What's more important
1. Don't over use - Using too much eye cream will not make it more effective. However, it can get into your eyes this way and cause irritation and over use can cause Milia. Therefore it is recommended to only use a pea-sized amount of eye cream, you just need to dot it on your brow bone and roughly half-an-inch underneath your eyes, and you're all set!
2. Don't stretch your skin - The skin surrounding our eyes is extremely delicate, and we don't want to stretch it while we're applying eye creams or serums. If you can literally see your skin moving around while applying your cream, you're probably doing it wrong. Dap, tap or massage, but don't rub!
3. Apply before face cream - Since you want to avoid any thick texture products get in touch with the delicate skin around your eyes, it is best to use eye cream before applying any products after toner. 
---
"Get It Beauty" Winner
Out of 100 eye creams, the Benton Fermentation Eye Cream was selected by the "Get It Beauty - Beauty-Life Balance" tester panel as their top 5 best eye cream in their airing of 16 March.
OnStyle's long-running beauty talk show "Get It Beauty" was launched in 2006 and gained popularity with its blind tests of makeup products. This weekly TV show has become a standard reference for many beauty consumers. Every week the "Get It Beauty" team test and announce winners for different categories. The producer of the show made clear that the "Beauty-Life Balance" segment is free of any sponsorships. 
The show started with eliminating 78 out of 100 products for containing harmful ingredients. Then the remaining 22 eye creams had undergone clinical tests for 28 days. As the last step they performed wrinkle improvement test. 
BENTON
✓Affordable price for 30g
✓Contains Galactomyces Ferment and high content of other fermented ingredients
✓Slightly acidic pH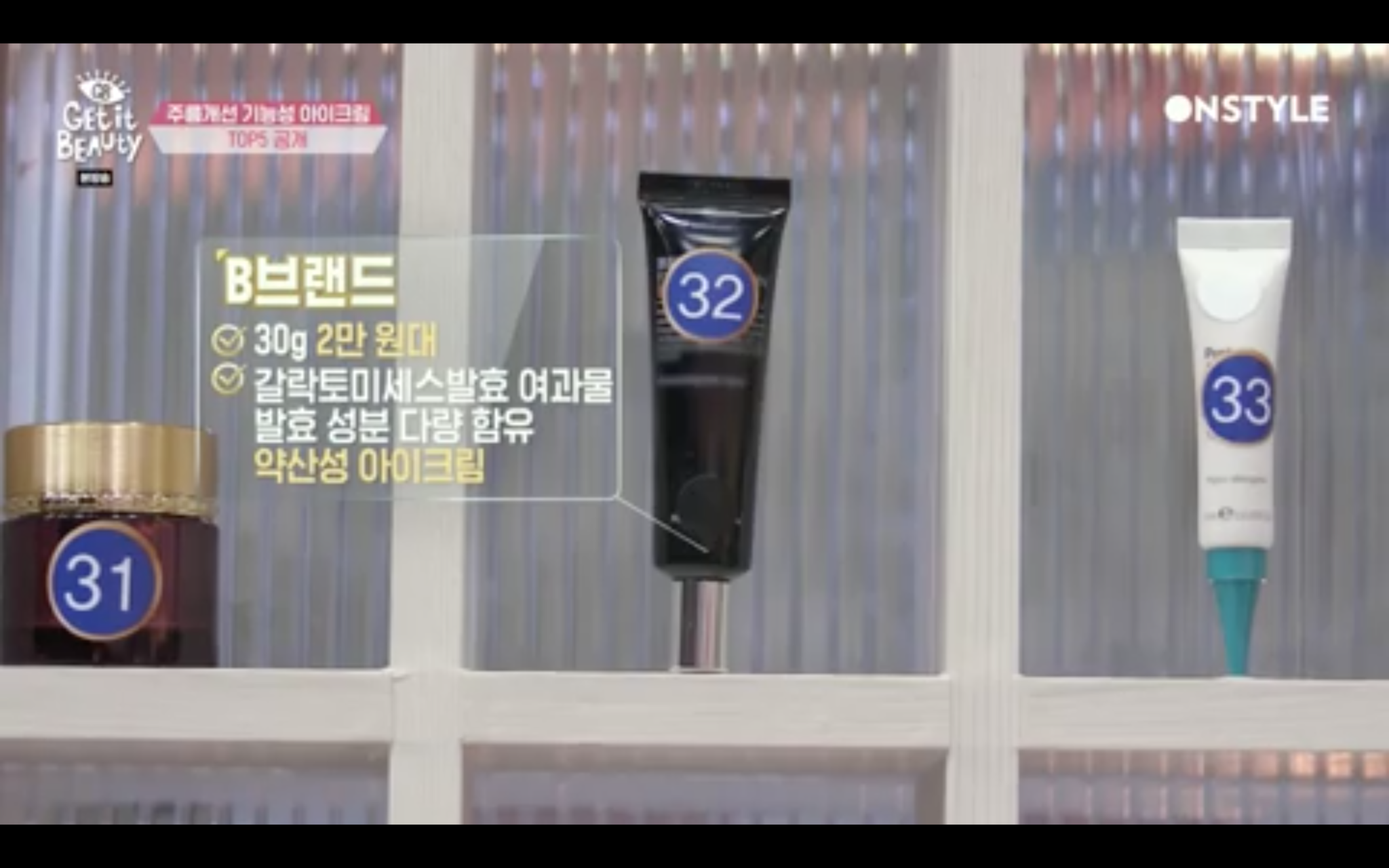 Top 5 BENTON
Wrinkle improvement 5.82%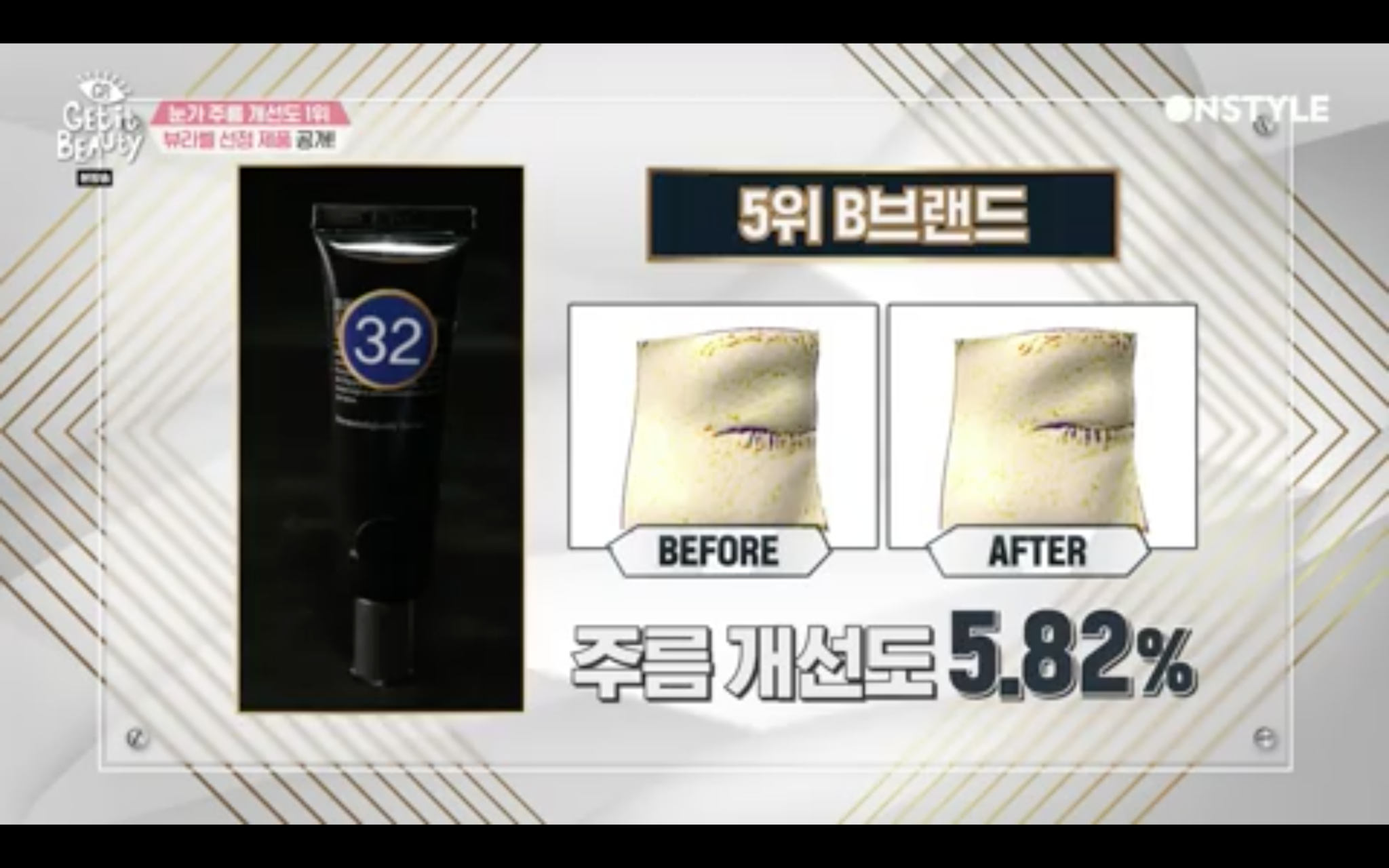 These are the winners of "Get It Beauty - Beauty-Life Balance" in order of improvement percentage.
1. Swanicoco Fermentation Peptine Eye Care Cream
2. Biotherm Blue Therapy Eye Cream (Douglas NL retail price: €50,36 / 15ml)
3. Sisleÿa L'Integral Anti-Age Eye and Lip Contour Cream (Douglas NL retail price: €166,78 / 15ml)
4. CNP Rx Skin Revive Vita-A Contour Eye Cream
5. Benton Fermentation Eye Cream (Haru Haru Beauty €30 / 30g)
Benton Fermentation Eye Cream
This cream is a great buy considering its high quality and reasonable pricing! It's effective in reducing fine lines and can be used for your entire face if desired.
✰ It contains
Galactomyces Ferment Filtrate: moisturizing, brightening, pore control, decrease of acne, increasing elasticity
Bifida Ferment Lysate: hydration, soothing
Ceramide: can be found in the upper layer of our skin, they hold the cells together, forms a protective layer, locks moisture, acts as a barrier against bacteria and environmental pollutants.
Sh-Oligopeptide-1: EGF, increase rate of healing and renewal of the skin, slowing thinning of aging skin, minimizing wrinkles.
And... Sodium Hyaluronate, Beta-Glucan, Allantoin, Adenosine.
✰ Smart packaging
Antioxidants in its formulations could be lost when they are exposed to oxygen. But its airtight container won't allow any air into the tube whenever you open it.

✰ It's suitable for
Sensitive and dry skin
Wrinkled skin lack suppleness
Dull complexion
Dehydrated and tight skin
Skin with a poor water-oil balance
Skin sensitive to harmful ingredients
---
Final thoughts on eye cream
We hope you have enjoyed reading while gathering knowledge on eye creams. And we hope that this post was helpful in your search for the right eye cream. If you are using an eye cream right now which you are really happy with please share it in the comment. -- Love, Haru Haru team 
Watch the full episode Get It Beauty here