Skinmiso
8 products found
Happy pores, happy skin.
Unlike many skin care companies that try to address multiple skin problems, Skinmiso only focuses on pores. They believe that healthy pores are in fact the key to healthy skin.
Most skin problems are caused by pores, from dry and itchy skin to acne. Clean pores form the basis of the skin and by keeping them clean and healthy, you can enjoy a balanced lifestyle with a more youthful appearance.
As a result of years of research into pores, there are 3 success factors according to Skinmiso:
1. Removal of excess sebum and dead skin cells.
(exfoliate, clean, remove sebum, skin brightening)
2. Maintain optimal hydration and absorption of nutrients.
(hydration, pore strengthening, strengthening of the skin's ability to defend itself against foreign invaders)
3. Keep the skin in general, healthy and in a balanced state.
(general skin care, wrinkle improvement, sebum reduction, improvement of overarching skin problems.)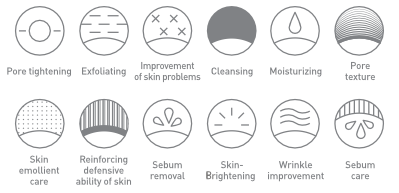 For Skinmiso and her employees, the words 'trust', 'patience' and 'growth' are central. The company strives for a healthy balance between work and private life for all its employees because they believe that this results in a healthy growing company. That is why Skinmiso does not do overtime and taking days off from the office is more of an obligation.