15 Aug 2018
(part 1) Test panel uses a sheet mask for 7 days straight
You've probably used a sheet mask once a while, but have you ever tried to use a sheet mask everyday day continuously? 

The so called "1 day 1 sheet mask" is very popular in Korea amongst those who strive for that "Glass Skin".  We've asked 4 customers to participate in our Testerpanel to take on this challenge and use 1 sheet mask a day for 7 days straight. 

You can check out their skin diaries here below.
Fabiënne

Age: 20 ~ 25 year

Skin type: combination

Troubles: lately suffer from irritation bumps

Daily environment: behind computers & office desks

K-beauty level: frequent user
Start the challenge
It starts with a very tired skin and a person who hasn't really been taking good care of herself because of work. I have inmense dark eyecircles and my skin is really dehydrated. So it was a good time to start the sheetmask a day challenge for 7 days.
Halfway through 
By day three, my skin was very hydrated but I did get a bit of a break-out. I think my skin was detoxing as to get out the bad stuff out of my skin. But after a little while my skin started to feel more hydrated and bright. You can also see that the break-outs have faded away.
Last day
On the last day, my skin did feel a lot more smooth, bright and hydrated than it did on the first day. I didn't even care to head out without make-up on!
---
Diena

Age: 30 ~ 35 year

Skin type: sensitive

Troubles: dark circles, dry and flaky U-zone

Daily environment: office desk at work + outer-air on bicycle + busy mom and Instagram beauty blogger

K-beauty level: new user
7 Days Sheet Mask Challenge
What a lot of fun to be selected as a tester! I have never done a 7 days sheet mask challenge, so I was super curious!
Day 1 / Snail Bee High Content Mask Pack

This is a hydrating mask with Snail Mucus extracts and Bee Venom, it makes your skin hydrated and soft. I thought this was a great start of the challenge, although the ingredients sound very exciting.

 

The mask hardly smells and it's fine in terms of size. After 10-20 min, you tap the remain essence on the face, no need to rinse off.

 

My skin was slightly red afterwards, not from irritation but from the effect, it felt really soft. I found it to be delightful!

  

  

Day 2 / Everyday Bouncy Facial Mask

Again a moisturising mask which contains Honey extract, Propolis and Galactomyces. And again this mask hardly smells, although I had expected a sweet smell because of the honey. This mask was fine in size, although most sheet masks are too big for my face.

 

This mask really gave my skin a hydrating boost! And my skin was so glowy, I Loved it! I did not even use foundation after that, because my skin looked so radiant that I found it would be a shame.

Day 3 / Squeeze Green Watery Sheet mask

This mask contains Parsley and Chlorophyll extracts, which hydrates and protects your skin against environmental stress and refines the skin structure. This mask has a soft fresh scent, very nice.

 

My skin felt so fresh and soft through this mask! As if you came straight from the beauty salon after a facial, amazing!

 

 

 

 


Day 4 / Bio-zeup Firming Sheet Mask

This mask smells very fresh! It contains a combination of natural pepper extracts and fermented active ingredients. The mask intensively nourishes the skin, improves elasticity and strengthens the contours of the face.

 

My skin felt so soft, smooth and 'tight', this is a great mask for the more 'mature' skin, really nice!

Day 5 / Jumiso Chewy-Elasticity Mask Sheet

This mask emphasizes the firmness of your skin and helps to model an oval face. It consists of a tissue and a mesh layer. You first apply the mask, then you remove the mesh layer. This mask is quite big! I had to make folds to make it more fitting.

 

This mask really smells divine, floral. My skin looked very nice after the mask and feels wonderfully soft. I will certainly use this mask once again, just for the smell!

 

 

 

Day 6 / Jumiso Skin Lightning-Brightning Mask Sheet

This mask also has two layers; the tissue mask and a mesh layer that you remove after you have applied the mask. Salmon roe and Ceramides in this mask clears the tired and dull skin and restores the skin barrier. This mask also has a soft, pleasant floral scent, I love that!

 

This is a mask that really stimulates your skin! My face felt fresher, kind of caffeine shot for your face, recommend!!
Day 7 / Jumiso Rich-Nourishment Mask Sheet
The very last mask of the Challenge. This mask is a revitalizing tissue mask that contains natural ingredients, it nourishes your skin and keeps it in balance. This mask hardly smells and is very large in size just like the others of Hello Skin brand. Yet I really like these masks despite their size.
This mask was so nice that I did not use any moisturizing cream afterwards! Even hours later my skin felt soft and moisturized.
The result
What a great challenge to take! Everyone should do this every once a while, so delightful! My skin has really had a big boost! It is also simply wonderful to have a relaxing moment when you use a mask. I am very surprised by the result, the quality of the masks, the ingredients and diversity in extracts, and the assortment of Haru Haru Beauty.
I will definitely do this more often!
Thank you Haru Haru Beauty!
---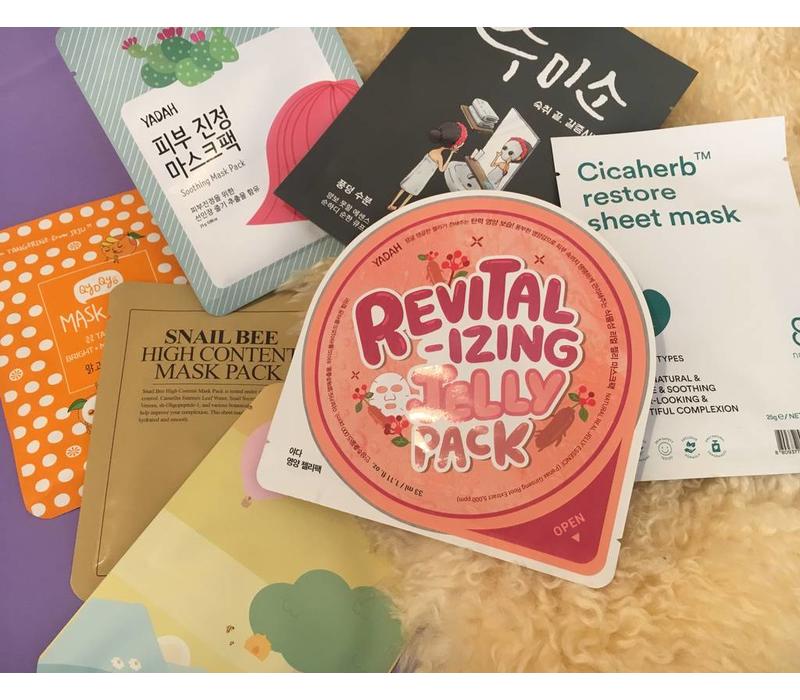 ---
How often do you use a sheet mask?