Bio-Zeup Sheet Mask - 25 g
|
Free shipping (NL)?
Add another €50,00
This product is free of artificial colorings and fragrances.
This product is free of animal based ingredients.
Add your review
Bio-Zeup Sheet Mask - 25 g
MAIN INGREDIENTS
Fresh paprika extracts and lactobacillus ferment

HOW TO USE
1. For the best result, use toner after cleansing your face.
2. Get the sheet out of its sachet and place it on your face, place mask to fit eye and lip area.
3. Make yourself comfortable and relax.
4. Remove the sheet after approximate 15 minutes and pat the remaining essence into your pores for optimal absorption.
5. Use the remaining essence in the packaging or hands to spread it on your neck, arms, elbow and other dry areas on your body.
6. Enjoy your soft and radiant face.

TIPS!
* Use the sheet after your essence/serum and experience an extra boosted and soft skin.
* Use the remaining essence in the sachet for the day(s) after, as essence (after toner).
* Refrigerate the mask (inside sealed packaging) until desired temperature is achieved. This will help to de-bloat and stimulates blood circulation.
* During the winter you could place the mask (inside sealed packaging) in warm water (50~60ºC) for approximately 2~3 minutes.

INGREDIENTS
AQUA (WATER), GLYCERIN, DIPROPYLENE GLYCOL, METHYLPROPANEDIOL, PROPANEDIOL, HYDROXYETHYL CELLULOSE, BUTYLENE GLYCOL, PEG-60 HYDROGENATED CASTOR OIL, TREHALOSE, SODIUM HYALURONATE, 1,2-HEXANEDIOL, ALLANTOIN, ADENOSINE, CAMELLIA SINENSIS LEAF EXTRACT, COPTIS JAPONICA ROOT EXTRACT, GLYCYR- RHIZA GLABRA (LICORICE) ROOT EXTRACT, SCHIZANDRA CHINENSIS FRUIT EXTRACT, ZINGIBER OFFICINALE (GINGER) ROOT EXTRACT, CITRUSGRANDIS(GRAPEFRUIT) SEEDEXTRACT, DIPOTASSIUMGLYCYR- RHIZATE, DISODIUMEDTA, LACTOBACILLUSFERMENT, ACORUSCALAMUS ROOTEXTRACT, ARGININE, CARBOMER, PARFUM(FRAGRANCE), GLYCERYL ACRYLATE/ACRYLICACIDCOPOLYMER, PANTHENOL, PROPYLENEGLYCOL, CAPSICUM ANNUUM FRUIT EXTRACT, PVM/MA COPOLYMER, LIMONENE, CAPRYLYL GLYCOL, PERILLA OCYMOIDES LEAF EXTRACT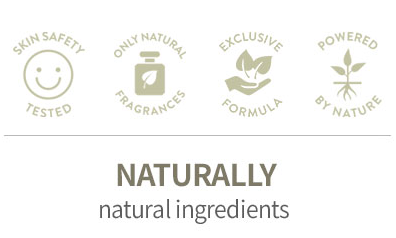 In a nutshell
Frequency:
1, 2 ~ 3 times a week, after toner, essence/serum
Recommended for skin type:
All
Recommended for trouble(s):
Dry, fine lines, reduced skin elasticity
Main function:
Firming, hydration
About skin types
1. Normal
: not dry, not oily, not sensitive, not tight, no or less pimples/acne, no or less fine lines, makeup does not run out easily.
Tip: it is important to hydrate the skin and lock the moisture.
2. Dry
: small pores, fine lines, flaky skin, pigmentation spots.
Tip: it is important to hydrate the skin and lock the moisture.
3. Oily
: T zone produces a lot of sebum, suffer from large pores, breakouts.
Tip: sebum regulation, moisturize and lock moisture.
4. Combination
: U-zone is normal to dry, T-zone is oily.
Tip: separate the oily areas with other areas. Use different products for the two zones. Also do not unnecessarily touch the oily zones.
5. Sensitive
: the skin is thin, it is easy red and suffre from visible blood vessels.
Tip: use gentle products suitable for sensitive skin.
* Read more about skin types and skin concerns
here
.
0

stars based on

0

reviews
0

stars based on

0

reviews